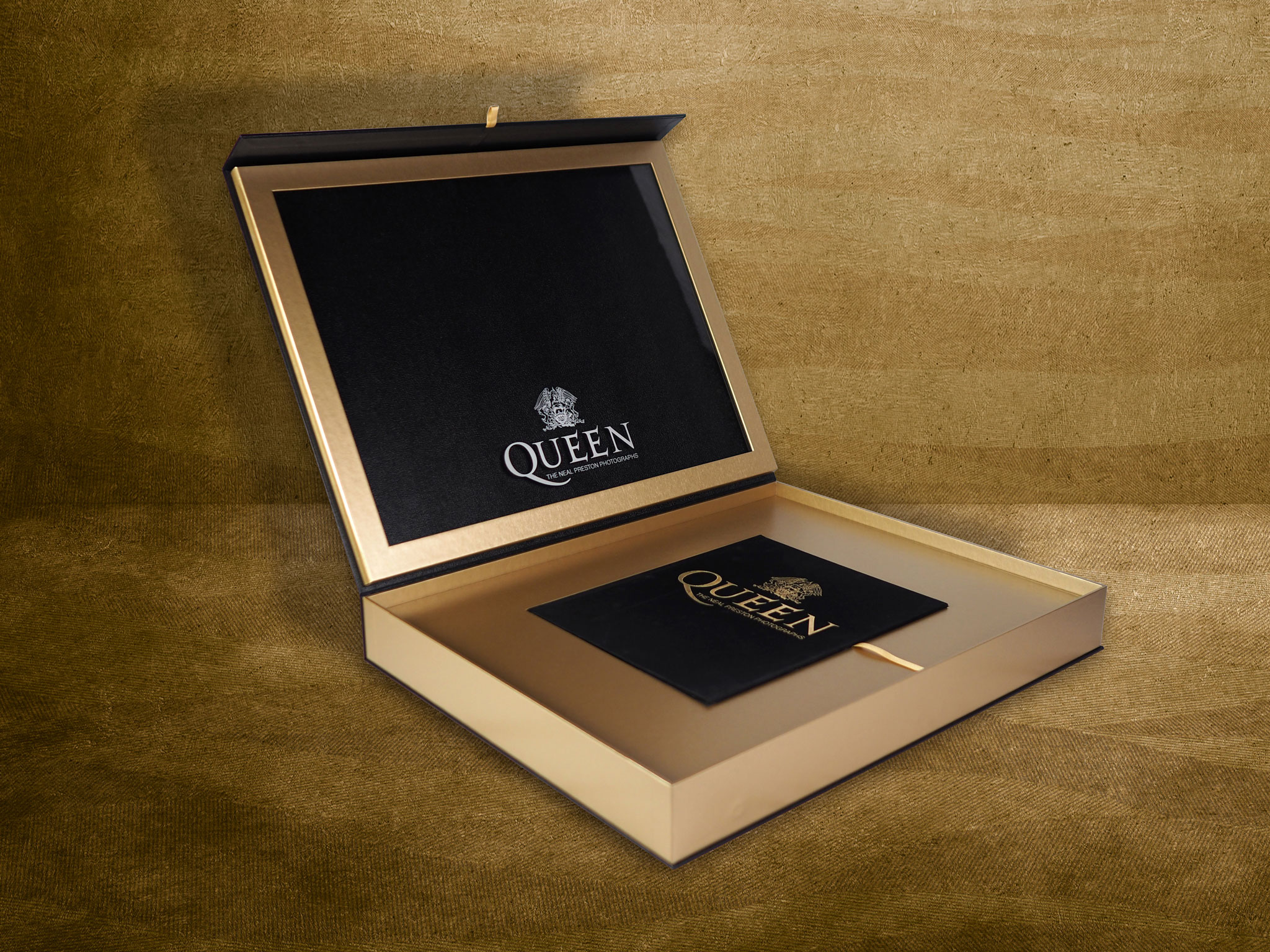 16 Jun

Queen Deluxe 'Finale' Presentation Boxes – A Rhapsody in the Making

Following on from the success of the Rolling Stones Presentation Box project that we did for RAP (Reel Art Press) Colourpoint were delighted to be asked to be involved in producing their next ambitious project, this time for none other than the legendary band, Queen. This particular project involved producing two Large Deluxe Presentation boxes to house 5 limited-edition photographs of Queen and a casebound limited-edition photo book that were both provided to us. The photographs were all taken by Neal Preston, a photographer based in Los Angeles, California who is also famous for his photographs of other rock musicians such as Led Zeppelin, Bruce Springsteen, Fleetwood Mac, Michael Jackson, and many others. These illustrious prints were produced as fine art prints from the negatives for the first time ever and as such were exclusive to this limited-edition package. The prints are all 16 x 20 inches (406 x 508mm) and were hand printed as silver gelatin prints using the artisan techniques of the traditional darkroom.
So, as you can see, to say it was a great honour be to be entrusted with this project is perhaps an understatement!
The most challenging part of this project was the sheer size of the boxes, they needed to be large enough to accommodate the size of the signed photo prints but we also needed to maintain a balance, both physically and visually between this and the casebound book which was held within the recess of the base of the box.
John, our expert Box designer here at Colourpoint, brought his years of experience to bear on this project helping to visualise and conceptualise the construction of it and planning how it was all going to come together. After some initial careful consideration and calculation, working closely with Steve at RAP, we began the project by making a number of prototype preliminary samples until RAP were completely satisfied that it was just right.
Creating the outer boxes – It's a kind of magic!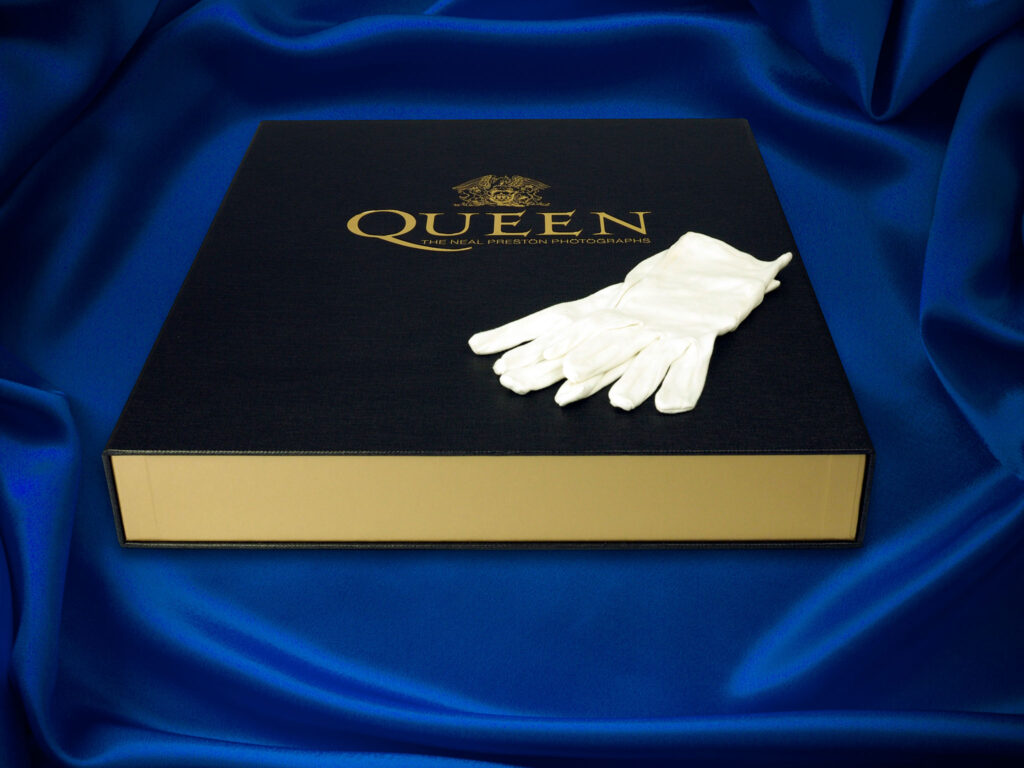 For the Deluxe Edition, RAP selected two different luxurious Winters covering materials, CORVON® – Metal Mesh – Titanium for the outer cover and sides of the presentation box and CORVON® – Metal-X Brush – New Gold for the inner material, both of these are FSC certified materials. These two combined to give a beautifully luxurious and metallic feel, perfect for this incredibly unique presentation box. A total of 250 units of this Deluxe version of the box were produced.
The second box was a Super Deluxe Edition which was ultimately destined for the Band members themselves, only 15 of these were produced and they were all signed by Neal Preston, Roger Taylor and Brian May. These were mostly based on the Deluxe limited-edition box, but here a different covering material, called Skivertex® – SXS5254, was selected rather than the CORVON® – Metal Mesh giving this version of the box an instant visual differentiator from the Deluxe version.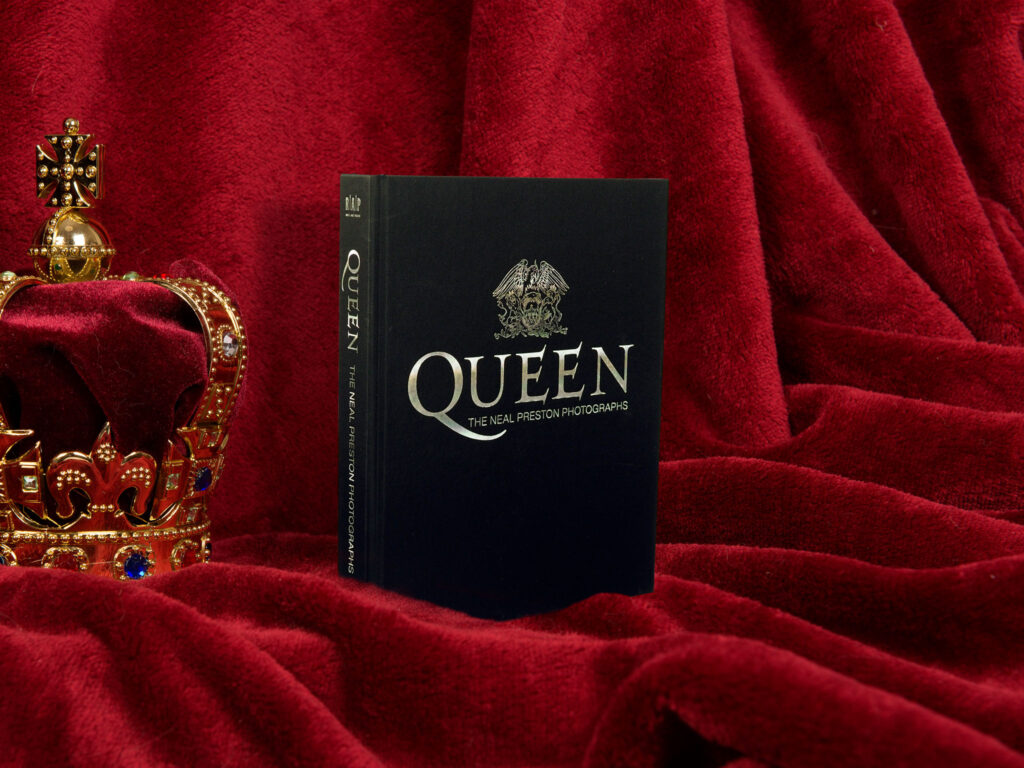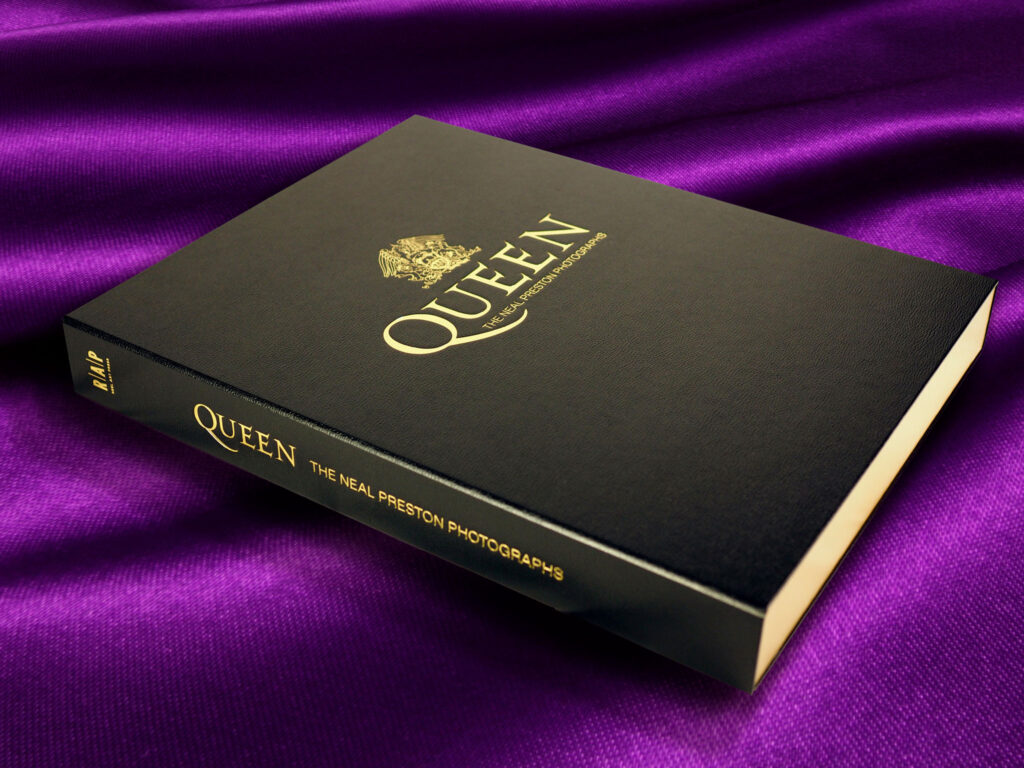 All of the box covers, including the spines, were hot foiled debossed in gold foil, with the Queen logo. Again, size made the foiling process quite tricky as the cover boards when laid flat were so large that there was literally only a 2mm clearance on either side of our foiling machine! 'Under Pressure' – thanks to the skills of our excellent foiler, Ian, we managed to get this part of the process done without a hitch and the results speak for themselves.
Once we had all the elements printed our box craftsmen and women, Chris and Carol, carefully hand-made and assembled each box to their very high exacting standards.
What goes on inside… One vision
In the presentation it was important that when you opened the box both the prints and the book should be immediately visible. This meant securing the limited-edition prints to the inside of the box lid. To facilitate this, we created a clear acrylic panel on the inside of the box lid, this ensured that they were immediately visible and able to be delicately removed from the box. To generate a feeling of depth, we printed the Queen Crest in opaque white print directly onto on the reverse side of the acrylic panel using our large format Agfa Anapurna flat-bed inkjet press, the panel was then carefully framed with a covering of the New Gold material to complete the overall finish.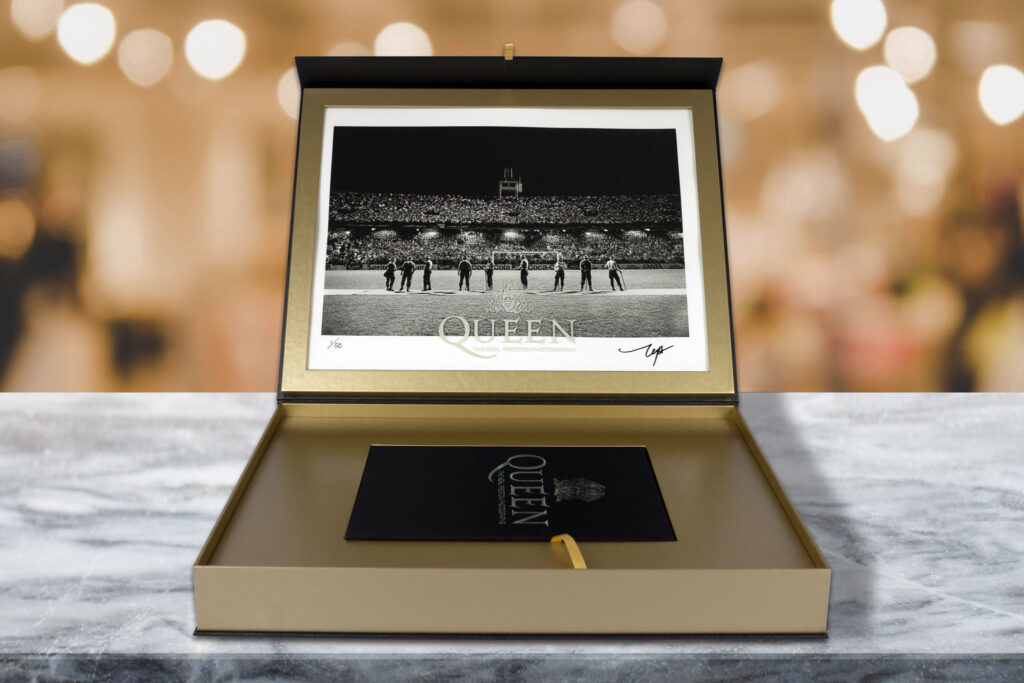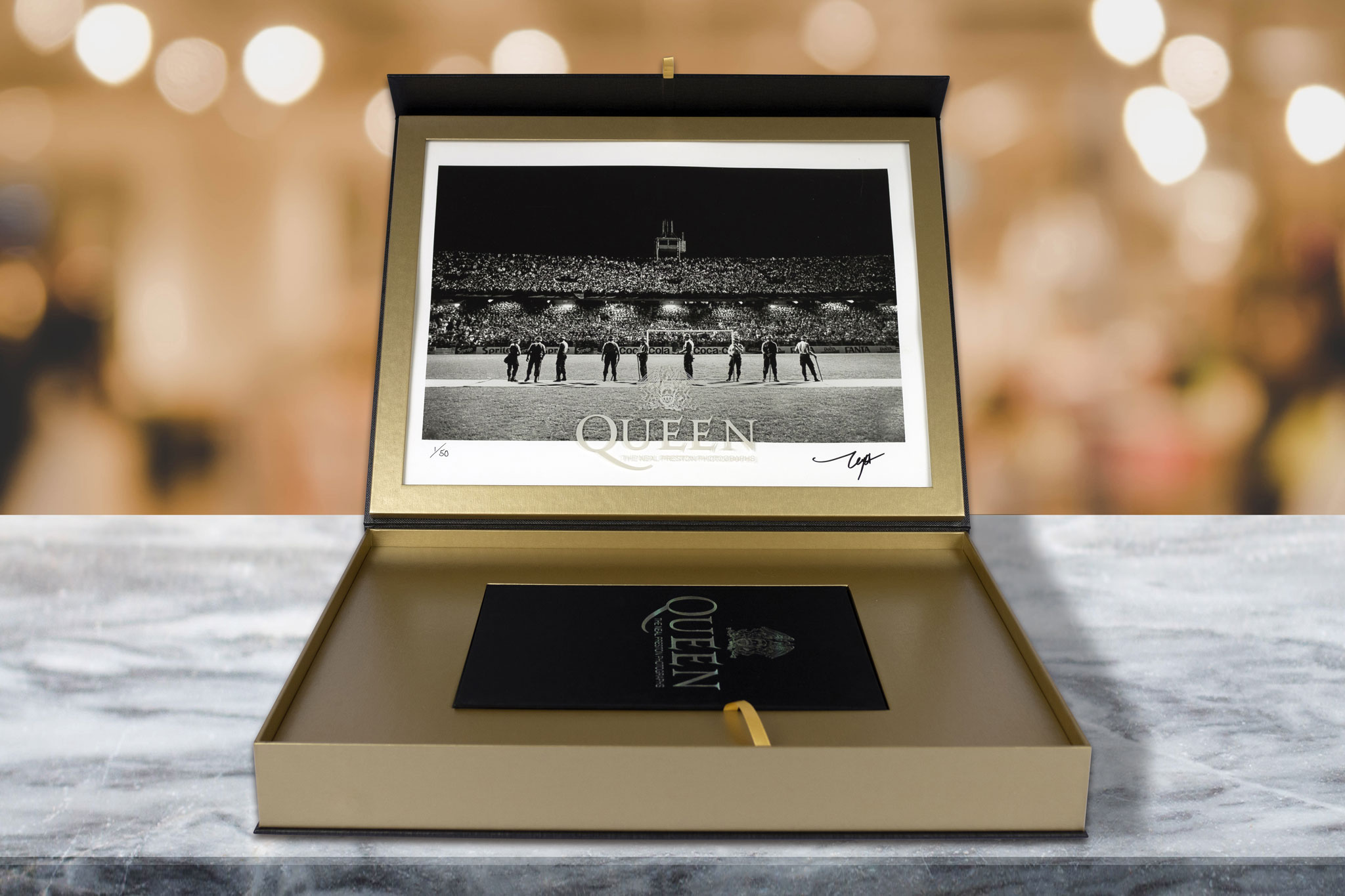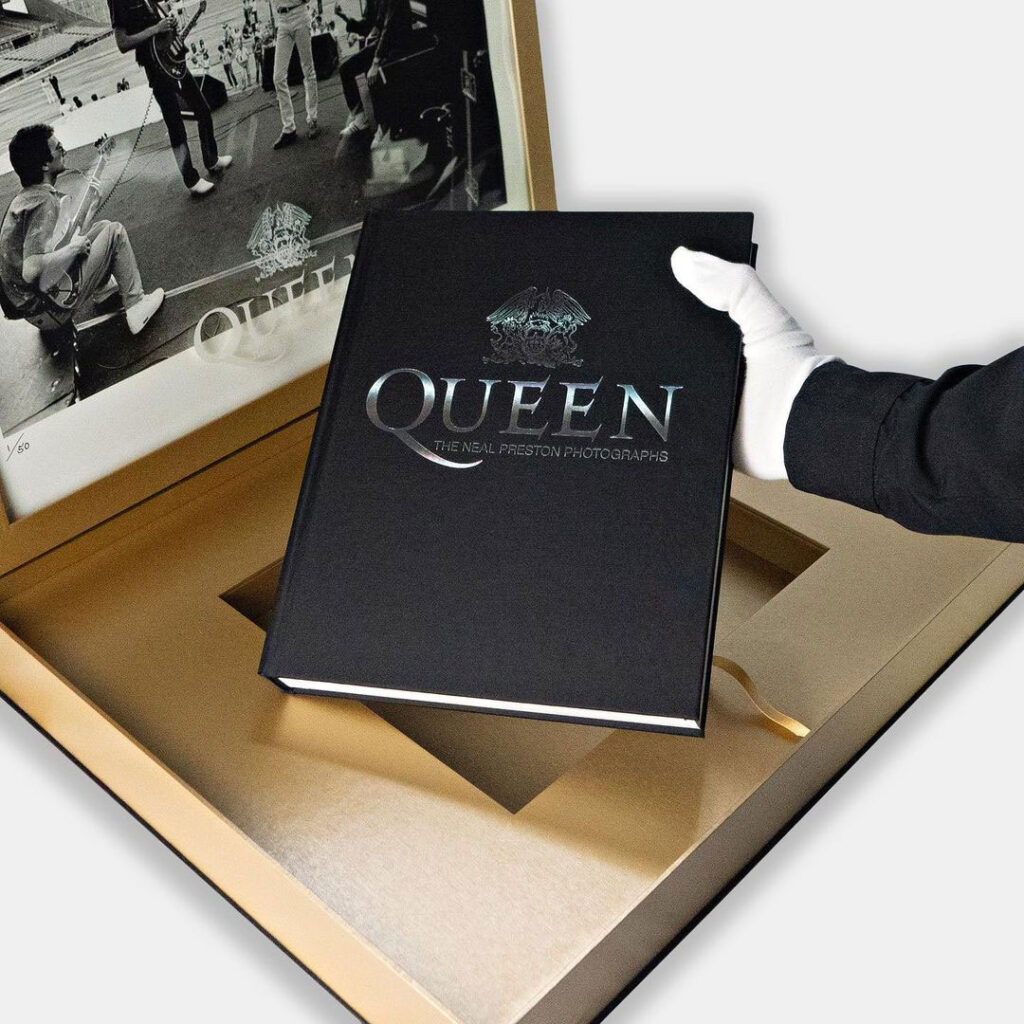 Then nestled inside the bottom half of these luxurious presentation boxes, is the limited-edition case bound book, which were supplied to us by RAP, these have been tipped in with a 'hand-signed' trans clear translucent paper overlay sheet. The base of the box had a plinth with a recess that the book fitted snuggly into. As a precaution, to help protect the book, we printed a clear protective acetate dust cover, and fitted a gold ribbon pull to ensure that the book could easily be lifted out of the box without damaging it. And to finish it off with one final unique touch, we printed an Introduction Letter, black matt debossed foiled on a GF Smith 150gsm Zen Pure white uncoated, which gave the appearance of an age-old letterpress process, this is folded and inserted into its own bespoke gold wallet.
To finish off the boxes RAP added a pair of white cotton handling gloves. Such class!
And then to the delivery…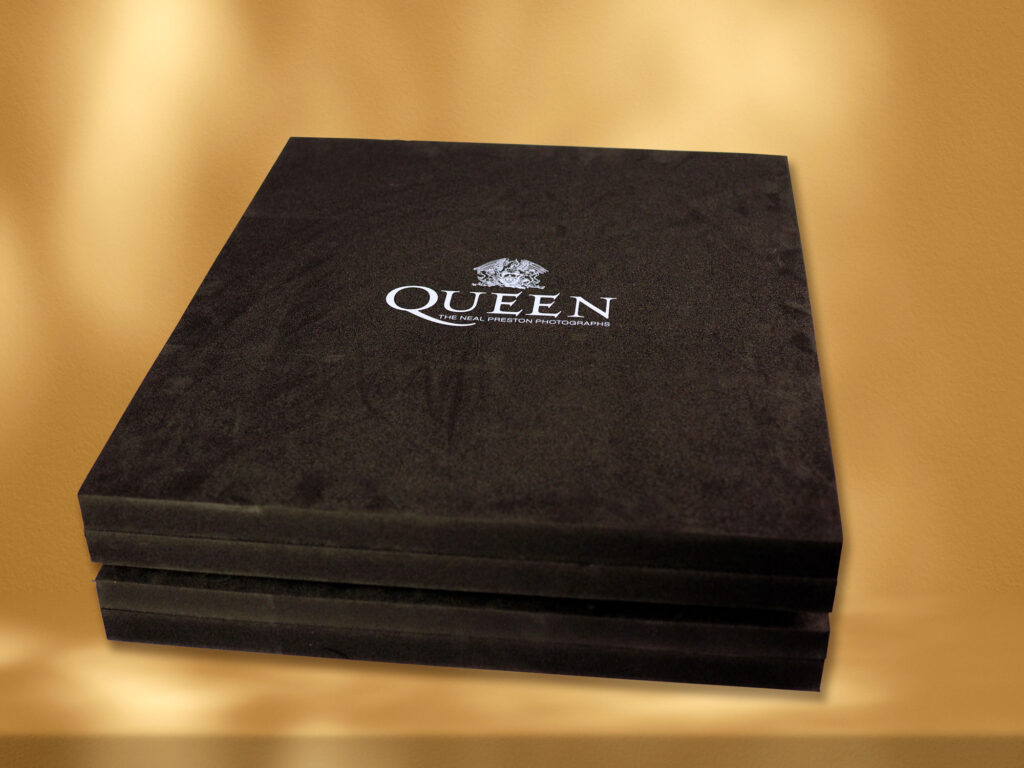 Producing these boxes was a massive undertaking, but it did not end there – ensuring that these amazing limited-edition boxes reached the end purchaser in perfect condition was no small feat either. As you can imagine these boxes are incredibly valuable and were needing to be shipped all over the world. So, the packaging of the boxes was absolutely key. After producing a couple of samples, we opted to encase the whole of the presentation box in a high-density foam covering which was then enveloped in an outer EB Flute bespoke carton. To add a truly special touch, we were able to print the Queen Crest in an Opaque White ink direct onto the Black foam using our Agfa Anapurna flat-bed inkjet press, this is something we have never attempted before, but was brilliantly achieved by our Digital Print Manager, Dan, tapping into his extensive knowledge and expertise. This ultimately created a rather impressive 'grand opening' experience to the outer box packaging.
The show must go on…
This was a massive undertaking and involved testing the experience and expertise of the team to the limit, literally. Our team, led by Adam our Production Director, worked tirelessly with RAP to deliver a product that we are incredibly proud of. In spite of the fact, that like all other businesses, Colourpoint had been severely impacted by the COVID-19 crisis, the team managed to keep the project on time and on track.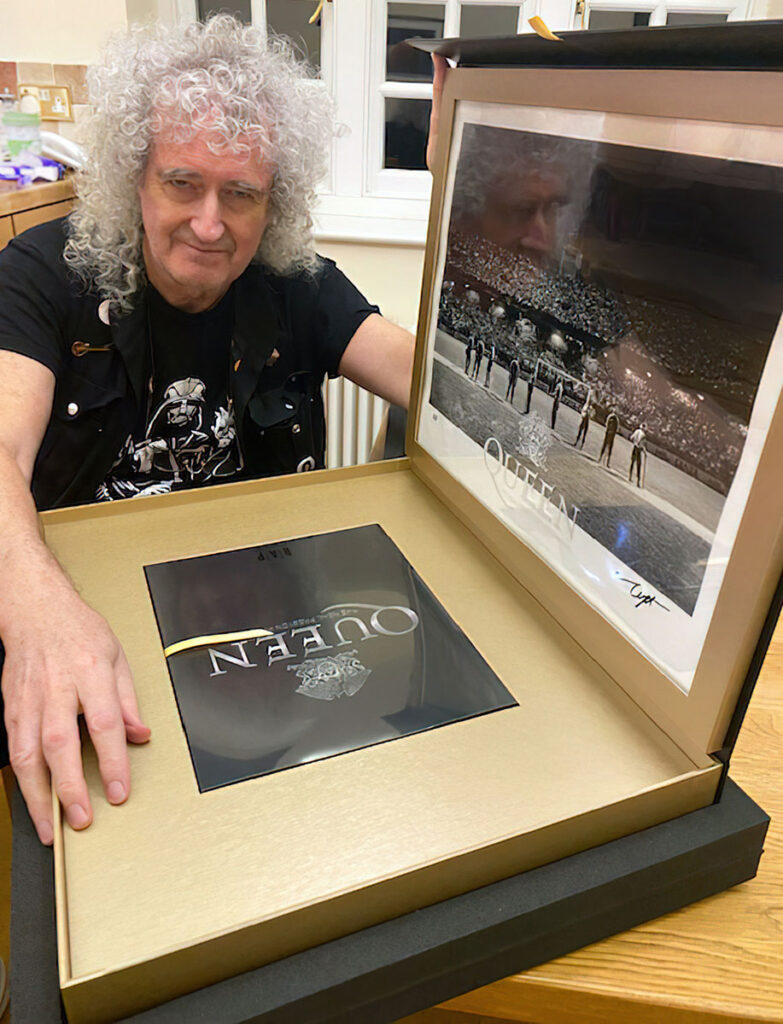 Working with the staff at Colourpoint on this project was an absolute delight from initial design through to finished product. The Company has a unique mixture of Hand traditional skills in tandem with the latest box construction technology. I was very impressed with their overall enthusiasm, can do attitude and superb communicative skills. The final product was "stunning" and extremely well received by all concerned. Thanks to everyone involved.
We thoroughly enjoyed working with the visionaries at RAP to bring these masterpieces to life. We are hugely grateful to you for the opportunity and look forward to the next exciting challenge The show must go on…