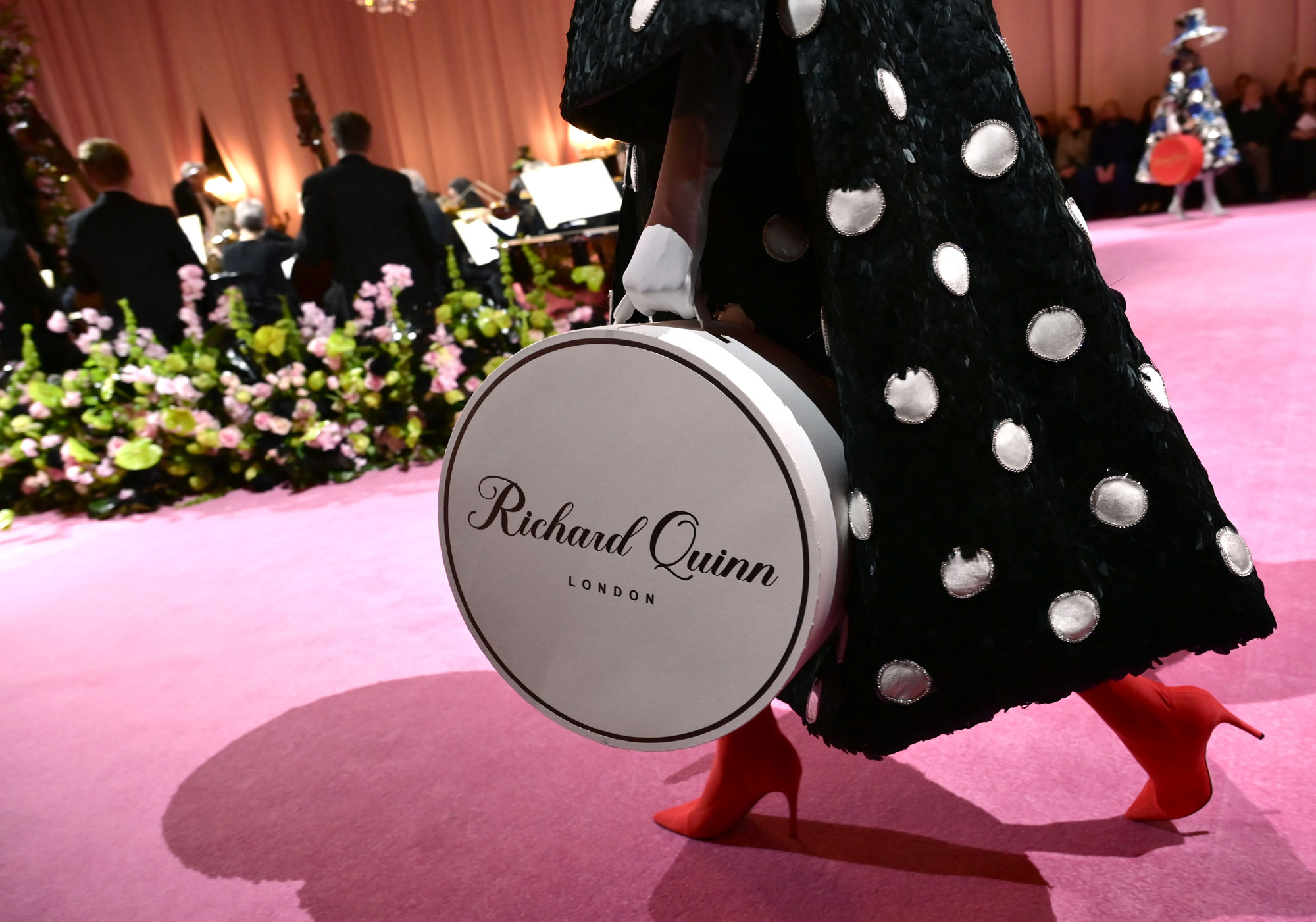 27 Feb

Richard Quinn Hat Boxes at London Fashion Week '22

Images courtesy of Richard Quinn.

Colourpoint's reputation for turning their hand to almost any box making project was tested to its fullest extent when, on Friday 11th February our account manager, Dan took a call from Richard Quinn's team, asking if we could make hat boxes? These weren't just any hat boxes, these were to be carried by models on the catwalk for Richard Quinn's spectacular closing of London Fashion Week on Saturday 19th of February 2022.  A last-minute change meant that the team at Richard Quinn had an urgent requirement. We had very little to go on apart from the fact they needed four of them and the rough dimensions of 450mm (Diameter) x 200mm (Depth), they needed to look like a hat box and most importantly – they needed to be delivered by the 18th February!!

Colourpoint have worked with Richard Quinn's team on several incredible projects, and this was no exception, the team at Richard Quinn have come to know our capabilities and our ability to understand and deliver on their requirements.

Our team rose to the challenge and quickly made up the first prototype to run by Richard Quinn's team for feedback, which would then enable us to make up a full working sample.

The prototype was really well received, subject to a few tweaks, and approved for production, so our production director, Adam, came in over the weekend to CAD cut all the pieces of board on our Zund, these were then lined, wrapped and made up into a finished working sample ready for client approval on Monday.

As each hat box had to be a different colour, the team at Richard Quinn chose Brillianta® as the cover material, this cloth material is widely considered to be the designers' choice for decorative coverings with its wide selection of vibrant contemporary colours and its lovely natural finish. Winter & Company, provided us with the material which we wrapped around a 500 Micron folding box board material in 11 varying colours of the Brillianta® which included a dark green, turquoise, white, brown, yellow, lavender, red, black, orange, baby blue and baby pink.

As with all urgent jobs, things are never plain sailing, and the team had to work quickly to solve a couple of small concerns that the client's team had, these being:- a foil of Richard Quinn's iconic logo needed to be added to the lid of the box (some in silver foil and some in gold foil); and the quantity increased to 8 boxes up from the original 4 requested. But, as always, the team took it in their stride and within 2 days, a couple more prototypes and the job was signed off for production.
Now with less than 48 hours until delivery there was still a lot to be done!! The material all needed to be lined, lids needed foiling, and the boxes needed making up. To add to the pressure, the quantity increased again to 10 boxes and by close of play Thursday it had jump to 16 in total!! We guess that's what happens when the client loves what you have produced!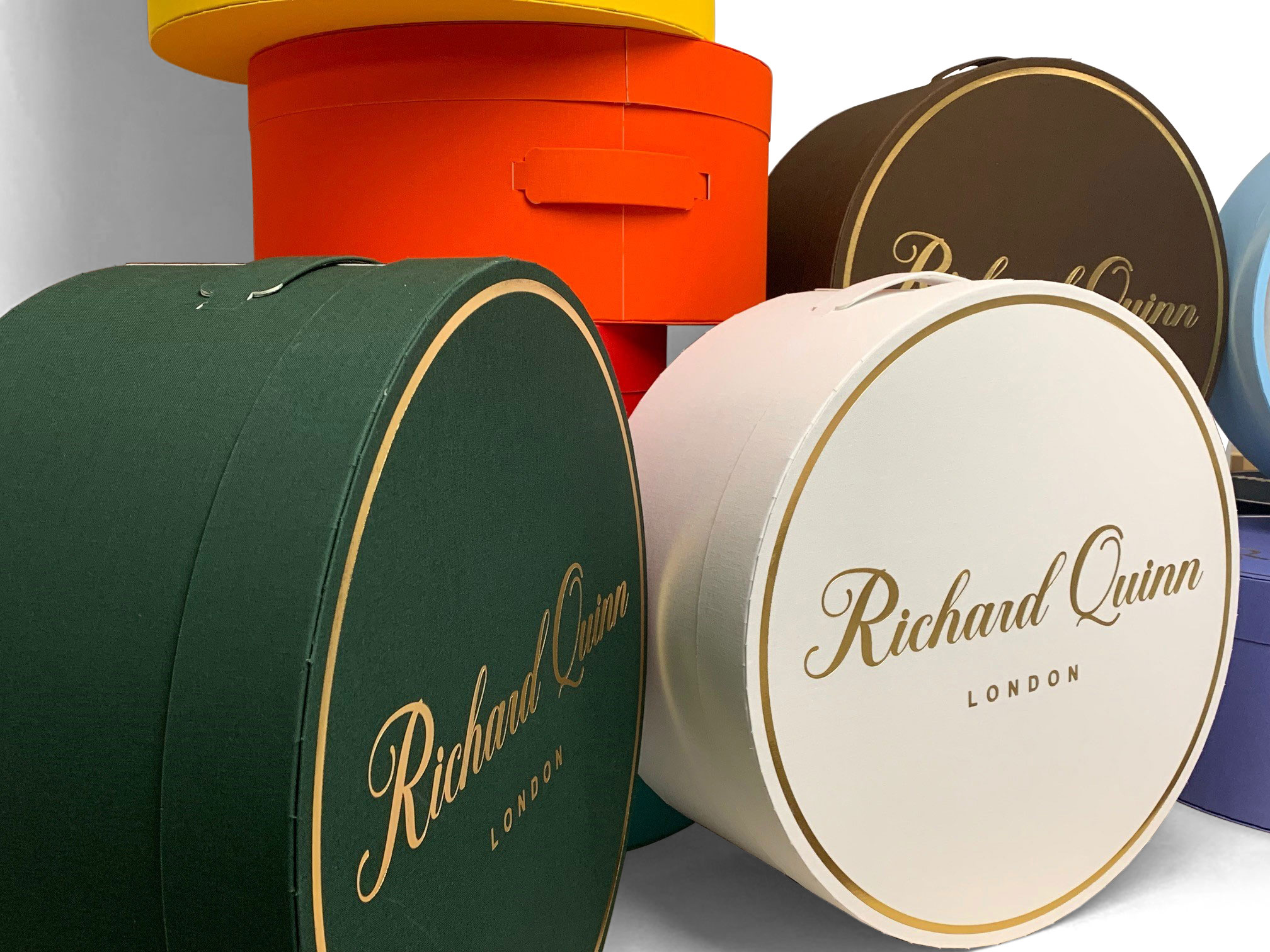 It was Friday morning, delivery day, and Adam had the team running like a well-oiled machine with everything coming together. At 11.30 am there was still one minor issue that needed resolving, a decision on the handle – matching colour or a faux leather? A quick decision by Richard Quinn's Team on the matching colour, and we could finally push on to the finish.
We hope you will agree that the hat boxes looked absolutely fabulous and by 3pm they were on their way to the Richard Quinn offices in London, ready for their catwalk debut. Phew!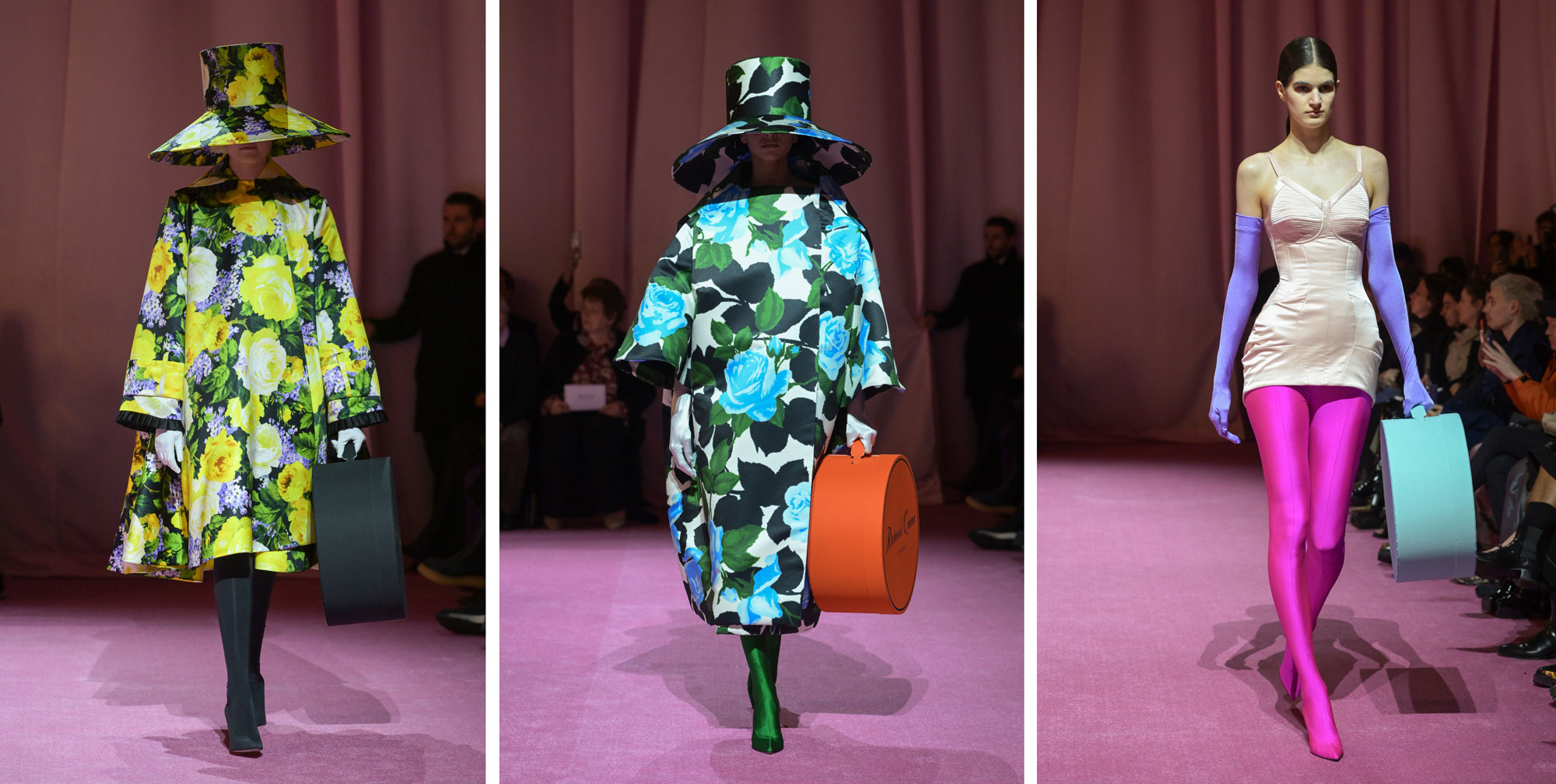 Images courtesy of Richard Quinn.
The team at Richard Quinn were delighted with the final product;
'We have worked with Colourpoint on several projects, and they are fantastic. Their quality and finish are unrivalled; we know we can rely on them to produce a polished outcome regardless of the timeframe. They take our designs to the next level, elevating an initial sketch to a beautifully finished final product. Alongside this, the communication is great, and the team could not be easier to work with. All in all, we couldn't recommend Colourpoint enough!' Eleanor Hill, Product Manager, Richard Quinn.
Another incredible achievement by the team at Colourpoint, this time not even Storm Eunice could stop us delivering!