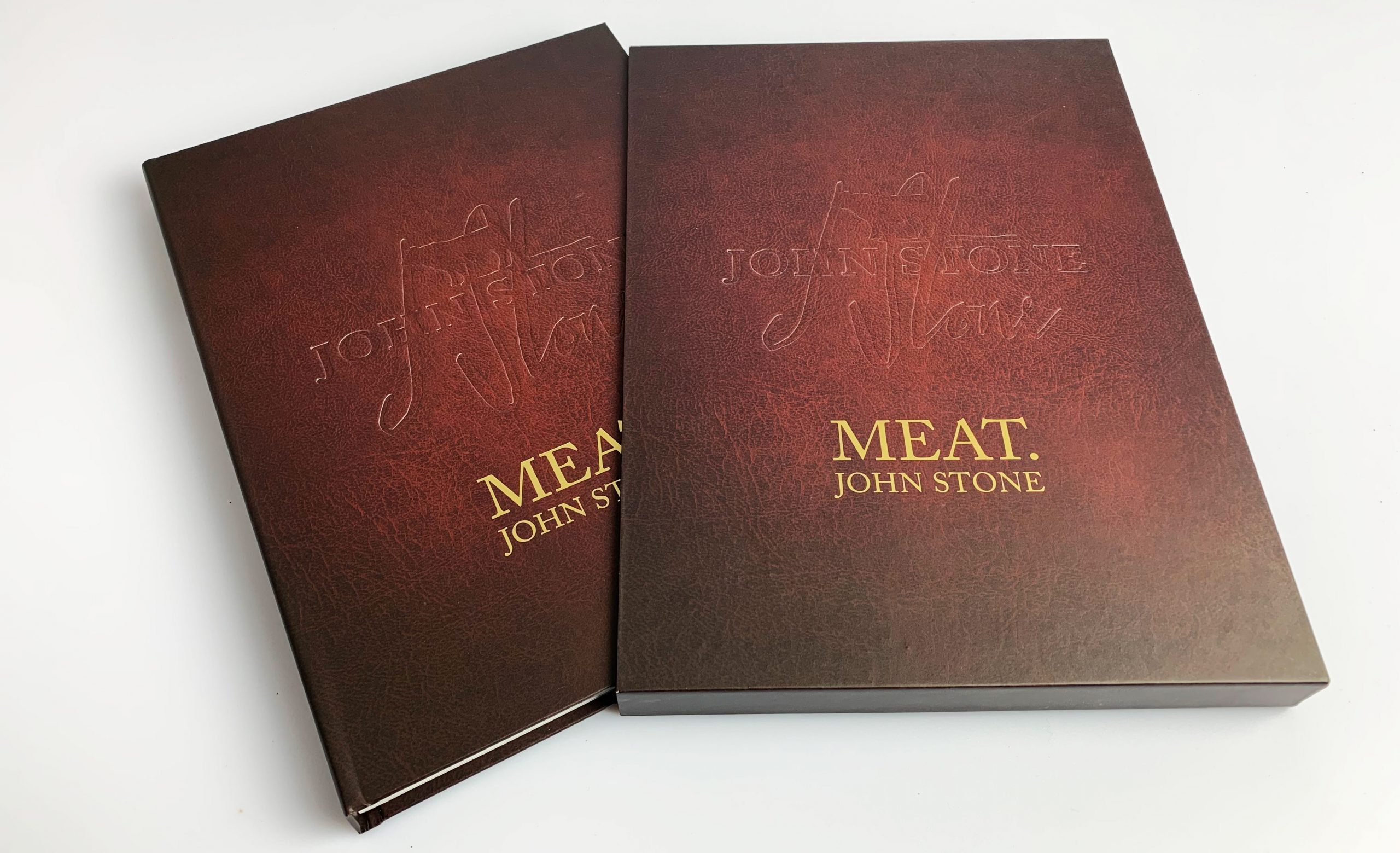 28 Apr

Definitely worth the wait…

In September 2018 we were asked to quote for a coffee table book for our client Lime Blue Solutions, a creative and event agency we have worked with for many years.

This was to be a prestigious book, showcasing the life and work of John Stone, Master Butcher. The first brief was for a natural leather cover, with foiling, a deboss and thread sewn text, approximately A4 and 64 pages. At this stage there was no artwork, we just needed to achieve the right look and feel for the client. We collated a swatch of 6 different leather finishes for the cover material and 4 different paper stocks for the content pages. After a few months mulling over the cover materials, the client decided against the leather and opted for a printed paper over board cover instead. John Stone wanted a deep burgundy/brown with a leather look finish which was beautifully achieved by Lime Blue Solutions who did an incredible job on the design and creation of the cover artwork. We then printed off a sample cover, had it laminated with anti-scuff bio-degradable laminate and sent to the client for approval. With the concept and cover now signed off, we just needed the content pages.

Fast forward to June 2020 and we received our first draft of the content pages, we initially printed a sample set digitally on our Indigo 7600 digital press onto a 170gsm Arco print uncoated paper for the client to take a look at. The print came out beautifully and was thread sewn and casebound into the printed paper over board cover for the client to approve. The client loved the look and feel but felt that the book needed a little more gravitas. We ran tests on foiling the cover with gold foils, and adding a deboss to give it more impact. Now November 2020 we were nearly there, a final proof was requested; case bound book, thread sewn, trans print end papers (like tracing paper), gold foil to front/back covers and a deboss to front cover. It seemed like job done!

Well, not quite – the team at Colourpoint were not entirely satisfied with how some of the pages viewed and suggested using lay flat binding as a better option as it provides a seamless finish to double page spreads. So we put together a dummy version of this print binding finish and sent to the client in January 2021 – they loved it!! In fact they loved the whole book so much that they decided to add an additional foil to the spine and finish the whole project off with a slip case for the book to slide into. The slip case was to be printed the same as the book cover, with the same gold foil and deboss. The job was finally printed and delivered in late March 2021 to an extremely satisfied customer.

As you can see from the images it is an absolutely beautiful piece of print, the team at Colourpoint excelled themselves. But we certainly cannot take the credit, Lime Blue Solutions did an absolutely amazing job of the compilation and design work on this project, and the results speak for themselves. We thank them for the opportunity to work with them on this outstanding piece!
'The John Stone – 'Meat. John Stone' Book is one of our most treasured pieces of work. Not only did we execute the design of the book from creation to production but worked closely with Allan Morris (Managing Director) and John Stone himself compiling interviews, content creation and photoshoots around the world to produce this fabulous memoir. Colourpoint, our print partner, were fantastic in working with us through all the variations and were expert in delivering the final product. Thank you Giles and all at Colourpoint who were involved in this truly wonderful brief." Clive Miller, Creative Director
"I am absolutely delighted with the final look and feel of the Book. The quality in production and print along with the design, textual content and photography has resulted in a valuable marketing piece and an historical journey through my career. Thanks so much to all involved in creating this wonderful biography of memories." John Stone MBE
We appreciate that sometimes projects evolve over longer periods of time, like fine wine, this project was one of those, it required time, patience, commitment and ongoing refinement, and the end result was certainly worth the wait! The team at Colourpoint are accustomed to working on these types of projects, some things just can't be rushed, and you can rest assured that we will walk the journey with you from start to finish. So whether it takes 24 hours or 2 years, we will be here for you!
We are Colourpoint.